Workshops available
Cultural Diversity and Decolonising your Psychological Practice

Check out @bepsychminded on Instagram. Reproduced with permission

About your presenter

​Averil has spent her professional life working in mental health, including leading a Child and Adolescent Mental Health service in Campbelltown and working with Aboriginal mental health workers, Aboriginal medical services, and local Indigenous and non-Indigenous community members. In the last few years Averil has focused on her love of teaching and training and until recently headed the Postgraduate Psychology degrees in the Discipline of Psychology at ACAP. In her academic work Averil has focused on increasing diversity and inclusion across the student and staff cohort and de-colonising academic course content and design. Averil has worked with large organisations to address cultural diversity and issues of systemic racism in the workplace. She has special interests in trauma, systemic work and organisational cultural change.

You can read some of Averil's work on these topics here at

The Activist Practitioner

and via podcast at

Psych Attack

.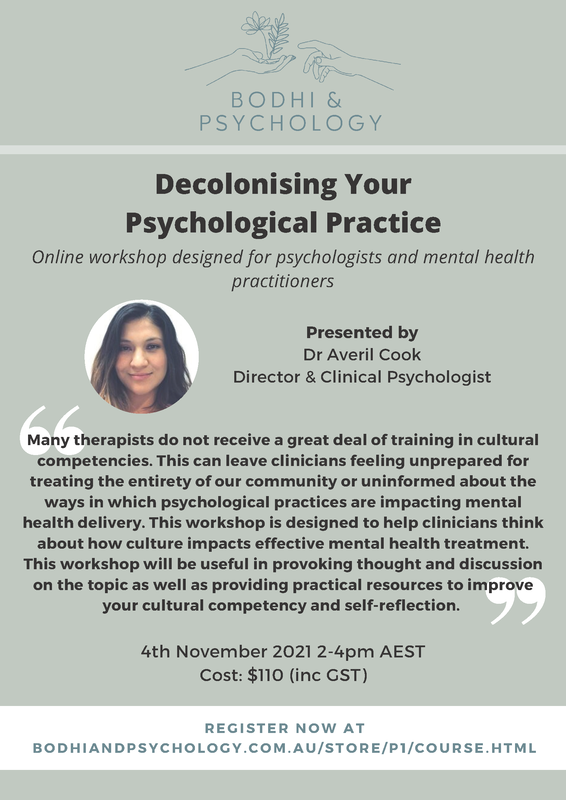 Workshops we offer
Family Based Therapy for Eating disorders

Training in Family Systems Therapy

Diversity and Inclusion training packages (see Corporate Packages)
​
Mental Health strategies for the workplace



Organisations we work with

Western Sydney Local Health District, Community Mental Health Teams
South Western Sydney Local Health Districts, ICAMHS, Psychiatry Registrars
GOT it!Team Liverpool
UNSW Masters of Clinical Psychology Programs
The Children's Hospital at Westmead teams
Higher Education Institutions

​